SCHOOL FIELD TRIPS
Welcome Schools, Home Schools
& Day Care Groups
Our exciting family-friendly productions help you incorporate the performing arts into your curriculum and build on your educational programs in a dynamic and engaging way.
The following is a list of our 2019-2020 Field Trip performances. To better prepare for a group visit to Kelsey Theatre, please review our policies and procedures.
---
'TWAS THE NIGHT BEFORE CHRISTMAS
Presented by Kelsey Theatre and The Kelsey Players
DATE: Friday, Dec. 6 & Monday, Dec 9, 2019 at 9:45 AM & 11:15 AM
AUDIENCE: All Ages
RUNNING TIME: Approx. 1.5 hours
GROUP RATE: $10/person
DANCING REINDEER AND SANTA SIGHTED AT KELSEY THEATRE
The excitement and wonder of the long-awaited midnight visit by Santa Claus, made famous in Clement Moore's beloved poem, is brought to the stage in a fun and enchanting musical perfect for even the littlest ones.
Link to Study Guide
---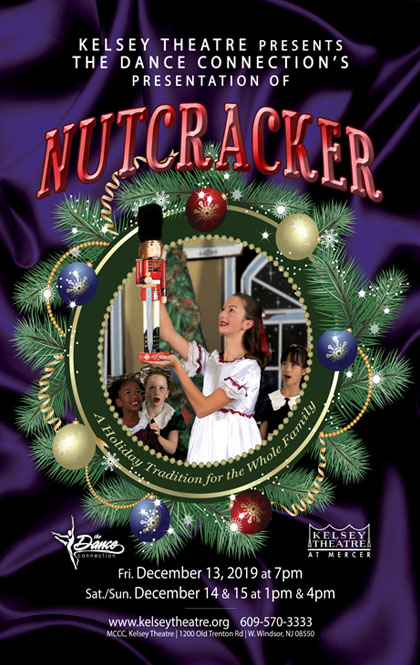 NUTCRACKER - SORRY SOLD OUT!
Presented by Kelsey Theatre and The Dance Connection
DATE: Fri., Dec. 13, 2019 at 10 AM
AUDIENCE: All Ages
RUNNING TIME: Approx. 1.5 hours
GROUP RATE: $10/person
THE CLASSIC BALLET - ABRIDGED AND FULLY NARRATED
The young Clara sneaks downstairs on Christmas Eve to play with her favorite present from Uncle Drosselmeyer – a Nutcracker – when she is suddenly confronted by the menacing Mouse King! Saved by her sweet Nutcracker Prince, she is whisked away to the Land of The Sweets. Awaiting her are the Snow Queen and her king, along with snow fairies, dancing sugar plums and toy soldiers.
---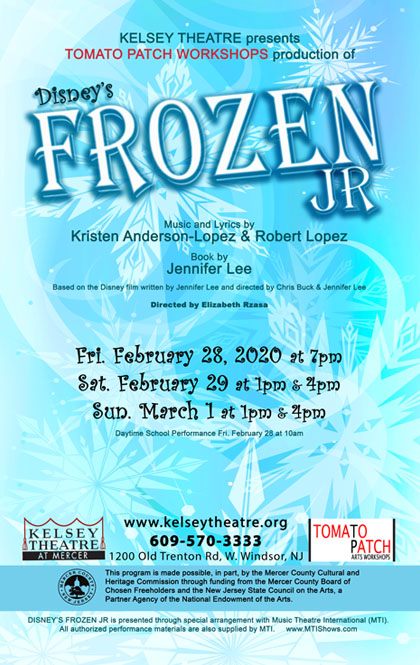 FROZEN JR
Presented by Kelsey Theatre and The Tomato Patch Program
DATE: Fri., Feb. 28, 2020 at 10 AM
AUDIENCE: All Ages
RUNNING TIME: Approx. 1.5 hours
GROUP RATE: $10/person
STORY
Kelsey Theatre and members of its Tomato Patch Visual & Performing Arts Workshops proudly present this enchanting Disney classic.
Frozen JR. is based on the 2018 Broadway musical, and brings Elsa, Anna, and the magical land of Arendelle to life, onstage. The show features all of the memorable songs from the animated film, plus five new songs written for the Broadway production.
A story of true love and acceptance between sisters, Frozen JR. expands upon the emotional relationship and journey between Princesses Anna and Elsa. When faced with danger, the two discover their hidden potential and the powerful bond of sisterhood. With a cast of beloved characters and loaded with magic, adventure, and plenty of humor, Frozen JR. is sure to thaw even the coldest heart!
The Lion The Witch and the Wardrobe
Presented by Kelsey Theatre and The Traveling Lantern Theatre Company
DATE: Fri., May 30, 2020 at 9:45 AM & 11:15 AM
AUDIENCE: All Ages
RUNNING TIME: Approx. 1 hours
GROUP RATE: $10/person
STORY
Leap into to the exquisite Land of Narnia!
The Traveling Lantern Theatre is making its Kelsey Theatre debut with this delightful musical. In a mysterious old house, children find a musty, magical wardrobe containing a secret entrance that leads them into a fantastic world. More than just a delicious story of make-believe, C.S. Lewis'
Narnia is a land where a malicious Witch and a beautiful and dear Lion touch the hearts and influence the choices of all who enter.
---
Field Trip Policies & Procedures
To help ensure your class has an enjoyable visit to Kelsey Theatre, please review the following policies and procedures.
2019-2020 RATES
Ticket prices can sometimes vary from show to show, please read the following prices carefully.
'Twas the Night Before Christmas ($10/person)
Nutcracker ($10/person)
Frozen Jr ($10/person)
The Lion, The Witch & The Wardrobe ($10/person)
All attendees including chaperones MUST HAVE A TICKET.
CHAPERONE TICKETS
Your group may receive one (1) complimentary chaperone ticket for every twenty (20) tickets purchased at the above prices.
Chaperone ticket orders must be included in your initial ticket request at the time of your group reservation.
RESERVATIONS & PAYMENTS
To reserve seats for your group, submit a completed reservation form accompanied by a 25% NON-REFUNDABLE deposit or purchase order. NO RESERVATIONS WILL BE ACCEPTED WITHOUT A DEPOSIT.
The final balance along with the final attendance count is due 30 DAYS BEFORE THE PERFORMANCE DATE.
Once Kelsey Theatre receives your final payment, a confirmation will be printed and mailed to you along with the tickets, which will come in the form of wrist bands the students must wear at all times while at the theatre.
Everyone entering the theatre must have a ticket/wrist band.
For questions about making reservations call the box office at 609-570-3333.
RESERVATIONS CHANGES
All sales are FINAL. Tickets are NOT refundable or exchangeable. Deposits are NON-REFUNDABLE.
If you need to increase your ticket order after the final payment has been made, please contact Kelsey Theatre ASAP and we will do our best to accommodate your extra guests.
TRANSPORTATION, PARKING & ARRIVAL
Kelsey Theatre DOES NOT provide transportation.
Please identify on your registration form the number of buses, vans and cars you will be bringing to ensure enough parking is made available.
Drop-off and pick-up will be in handled in front of the Theatre. Parking will be provided at no additional cost, but details will be at the discretion and direction of Campus Security.
Please arrive 30 minutes prior to show time to avoid delays.
To ensure a smooth debarkation and seating of students, we recommend tickets/wrist bands be distributed to students prior to arriving at Kelsey Theatre.
Once your group reaches Kelsey Theatre, please inform the house manager of your arrival before allowing your students to disembark. The manager will help provide directions for the orderly seating of your group.
Any unexpected guests who arrive with your group without a ticket must check in at the box office to purchase a ticket (provided seating is still available).
Note: Kelsey Theatre will make every effort to accommodate last minute guests. However, if you are not part of your group's original reservation, we cannot guarantee a seat with your group.
---
SCOUTS & YOUTH GROUPS
Upgrade Your Group's Theater Experience Today!
Many of our productions are ideal for scouting troops, religious youth groups, and other social organizations. If your group wants to give its members, young or old, an entertaining experience and a new perspective on theater, we have just the ticket.
GROUP DISCOUNTS
Your organization's members will receive a 20% discount off the regular ticket price when you bring a group of fifteen (15) or more to a show.
POST- SHOW ARTIST TALKBACKS
To help make your outing special, ask Kelsey Theatre's staff about arranging a post-show artist talkback. Arrangements can be made to invite cast, designers and directors of the show back out on stage for an informal discussion with your group and other members of the audience.
This is your chance to ask questions about the production and offer your feedback. Ask an actor about the challenges of their role. Ask a director about her vision for the show and what inspired it. Ask whatever you like. This is a great chance to meet members of the cast and crew and get a peek behind the scenes.
THEATER TOURS
Speaking of a peek behind the scenes, Kelsey Theatre offers brief (10-15 minute) tours of the theatre for youth groups. Kids can walk on stage, visit the dressing rooms and workshop, climb through the catwalks high above the theater, and visit the lighting booth. Along the way, a member of Kelsey Theatre's staff can provide background about the facility and the show your group just watched.
To plan an outing for your group, please contact Kelsey Theatre (609-570-3333) for arrangements.
Requests for talkbacks and tours must be made at least two weeks prior to the show.
---
EVERYDAY DISCOUNTS
Buy More, Save More
When it comes to your wallet, Kelsey Theatre has many ways to help you win. In addition to our every-day low prices, we offer discounted prices for seniors, students and children. But if that's not enough, here are a few more ways you can sweeten the deal.
SAVE 20%
when you purchase fifteen (15) or more tickets to the same performance of a show. So, hurry now and gather your friends to plan a night out at the theater.
OR…
SAVE 20%
when you purchase any number of tickets to six (6) different shows at one time. Cast your eyes over our current brochure and make your plans in advance.
OR…
SAVE 15%
when you purchase any number of tickets to five (5) different shows at one time. You know, just in case you have a problem with long term commitments. 😉
OR…
SAVE 10%
When you purchase any number of tickets to four (4) different shows at one time. Because we know that some people need to take us for a spin before signing up for more. 😊
OR…
Learn how our series subscriptions can help you save even more.