KELSEY KIDS ONE-HOUR SHOWS
'TWAS THE NIGHT BEFORE CHRISTMAS…
Up to the house-top the coursers they flew, with the sleigh full of toys, and St. Nicholas too.
Friday, Dec. 2, 2016 at 7pm
Saturday, Dec. 3 at 2p & 4p
Sunday, Dec. 4 at 2pm & 4pm
Daytime Shows for Groups Fri. Dec. 2 & Mon. Dec. 5 at 9:45 & 11:15am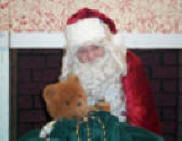 The excitement and wonder of the long-awaited midnight visit by Santa Claus, made famous in Clement Moore's beloved poem, is brought to the stage by The Kelsey Players, in a fun and enchanting musical perfect for even the littlest ones.
Tickets: $12 for Adults, $10 for Seniors, Students, Children
Special Daytime Performances for Groups
Friday, Dec. 2 & Monday, Dec. 5 at 9:45am & 11:15am
Tickets $8 - Contact the box office 609-570-3333 for availability.