FULL LENGTH EVENTS
Roebling – The Story of The Brooklyn Bridge
(Special Event)
The tale of the men who built the Brooklyn Bridge and the woman who finished it.
Friday, Nov. 11, 2016 at 8pm
Saturday, Nov. 12 at 8pm
Sunday, Nov. 13 at 2pm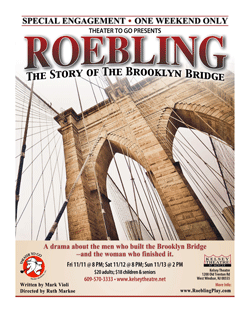 Theater To Go presents this fascinating drama by New Jersey playwright Mark Violi, based on the true story. It is 1869, and after years of preparation, and in the midst of New York's notoriously corrupt government, John Roebling is awarded the design and steel contract to build a bridge over the East River from New York to Brooklyn. The construction ultimately took 14 years, involved 600 workers and least two dozen people died in the process – including John Roebling. But it is Emily Roebling who surprises the establishment of the day by taking it upon herself to ensure the Roebling name is forever attached to the Brooklyn Bridge.
Tickets: $20 adults, $18 seniors, students, children