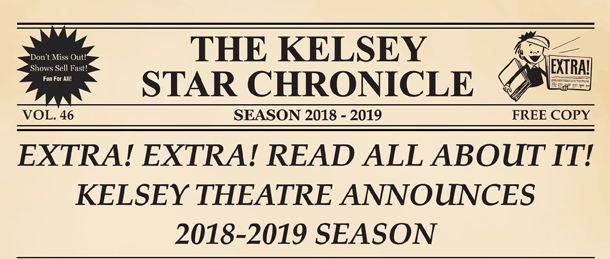 DISNEY'S
NEWSIES, THE MUSICAL
------------------------
NEWSBOYS CHALLENGE PUBLISHING TITANS
AND SEIZE THE DAY!
--------------------
Thursdays, Sept. 6 & 13, 2018 at 7:30pm
Fridays, Sept. 7 & 14 at 8pm
Saturdays, Sept. 8 & 15 at 8pm
Sundays, Sept. 9 & 16 at 2pm
By PinnWorth Productions
NEW YORK, New York - Based on the Newsboy Strike of 1891 this adaptation of the stunning Disney movie is high-energy and non-stop thrills. A ragged band of teenaged "newsies," strike for what's right, going up against a corrupt establishment led by newspaper moguls Joseph Pulitzer and William Randolph Hearst.
The universal themes of social injustice and exploitative labor practices, even David-versus-Goliath are highlighted by many of the beloved songs from the film, including "Carrying the Banner," "Seize the Day," "King of New York" and "Santa Fe".
$20 FOR ALL