Boeing, Boeing
Love is in the air… and coming in for a
CRASH landing!
Fridays, Feb. 17 & 24, 2017 at 8pm
Saturdays, Feb. 18 & 25 at 8pm
Sundays, Feb. 19 & 26 at 2pm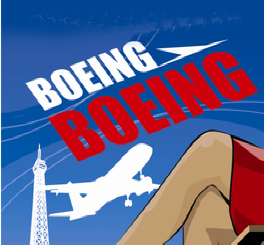 Fasten your seatbelts as M & M Stage Productions brings you this Tony Award-winning comedy! Bernard, living in Paris, is engaged to Gabriella…and to Gloria…and to Gretchen. With his housekeeper reluctantly playing romantic air-traffic controller, he successfully juggles three gorgeous flight attendant fiancées. But when a new double-speed Super Boeing arrives and changes flight schedules, we quickly learn that one woman is all Bernard can handle!
Tickets: $18 adults, $16 seniors, $14 students/children