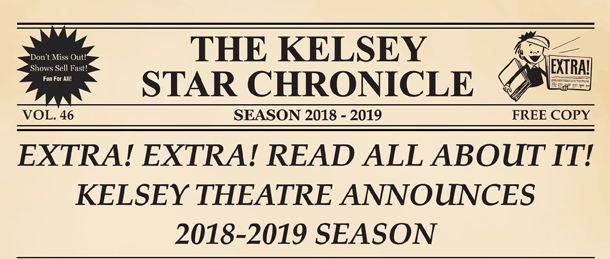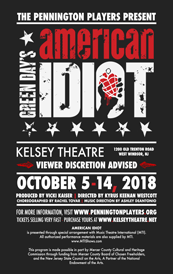 GREEN DAY'S
AMERICAN IDIOT
------------------------
POWERHOUSE ALBUM COMES TO LIFE
IN ELECTRIC-ROCK MUSICAL
OF YOUTHFUL DISILLUSION!
--------------------
Fridays, Oct. 5 & 12 at 8pm
Saturdays, Oct. 6 & 13 at 8pm
Sundays, Oct. 7 & 14 at 2pm
By The Pennington Players
SUBURBIA, United States – Bold, brash, and fun, this soul-searching musical brings Green Day's chart-topping 2005 punk rock album vibrantly to life.
This energy-fueled rock opera follows a young anti-hero, Johnny, the self-proclaimed "Jesus of Suburbia", and his two buddies, Will and Tunny, as they attempt to break out of their post-9/11, mind-numbing, aimless suburban existence.
PARENTAL ADVISORY: This show is rated R
$20 FOR ALL