Tomato Patch Summer Arts Workshops
an important movie offered for free: 
"Just Mercy" Movie Offered For Free on All Platforms
Based on a true story, starring Jamie Foxx and Michael B Jordan. 
The Kelsey theatre is an integral part of mercer county community college, and as such we stand united against injustice.  the president of the college - Dr. Jianping Wang has issued the following statement:
As we work hard together to fight the coronavirus pandemic, we are once again shocked by the senseless death of yet another African American man—Mr. George Floyd. Our nation is deeply divided at the time we need to be united to care for one another and to bring our economy and communities back.
It is important that we stand together to make our statement and to defend our American values of equality and justice for all. But it is even more important for us to do what we can to uphold those values. Each of us has a unique opportunity and obligation to make our mark during this very challenging time of our life. We do not have the luxury to wait for someone to lead us. Each of us must act now.
At Mercer County Community College, we promote equality and justice by empowering all through education. We stand in solidarity with those who condemn intolerance and acts of violence in all its forms. We are proud to serve as a beacon of hope, a source of strength, and a resource for those working toward a better future for themselves, for our community, and for our great state and nation.
In the coming days, we will be working with our community partners to find ways to unite our communities and bring hope to those who need it most. I welcome your ideas and suggestions. Together, we will overcome this challenge and emerge stronger and more united. History will judge us. So let us make it right for our future generations.
The Kelsey Theatre is home to several resident theater companies, please heed their pleas
THE YARDLEY PLAYERS
The Yardley Players Theatre Company productions are on hold as the world comes together in its efforts to battle the coronavirus pandemic.  During this already difficult time, we were saddened by the senseless death of George Floyd.  For the past 29 years the YPTC has embraced all races, genders, religions, and sexual orientations and will continue to do so in the future.  We stand united together against any injustice and promote equality.  We have always thought of YPTC as our second family and deeply and genuinely care about the black community.  Now more than ever, as citizens of The United States of America we need to come together with love and respect in our hearts towards each other.  It must start now with each one of us looking at ourselves and reflecting on the type of person that we want and should be and how we treat others.  This is the only way to bring about lasting change.  We denounce hatred and all forms of violence.  We support social justice and black lives matter.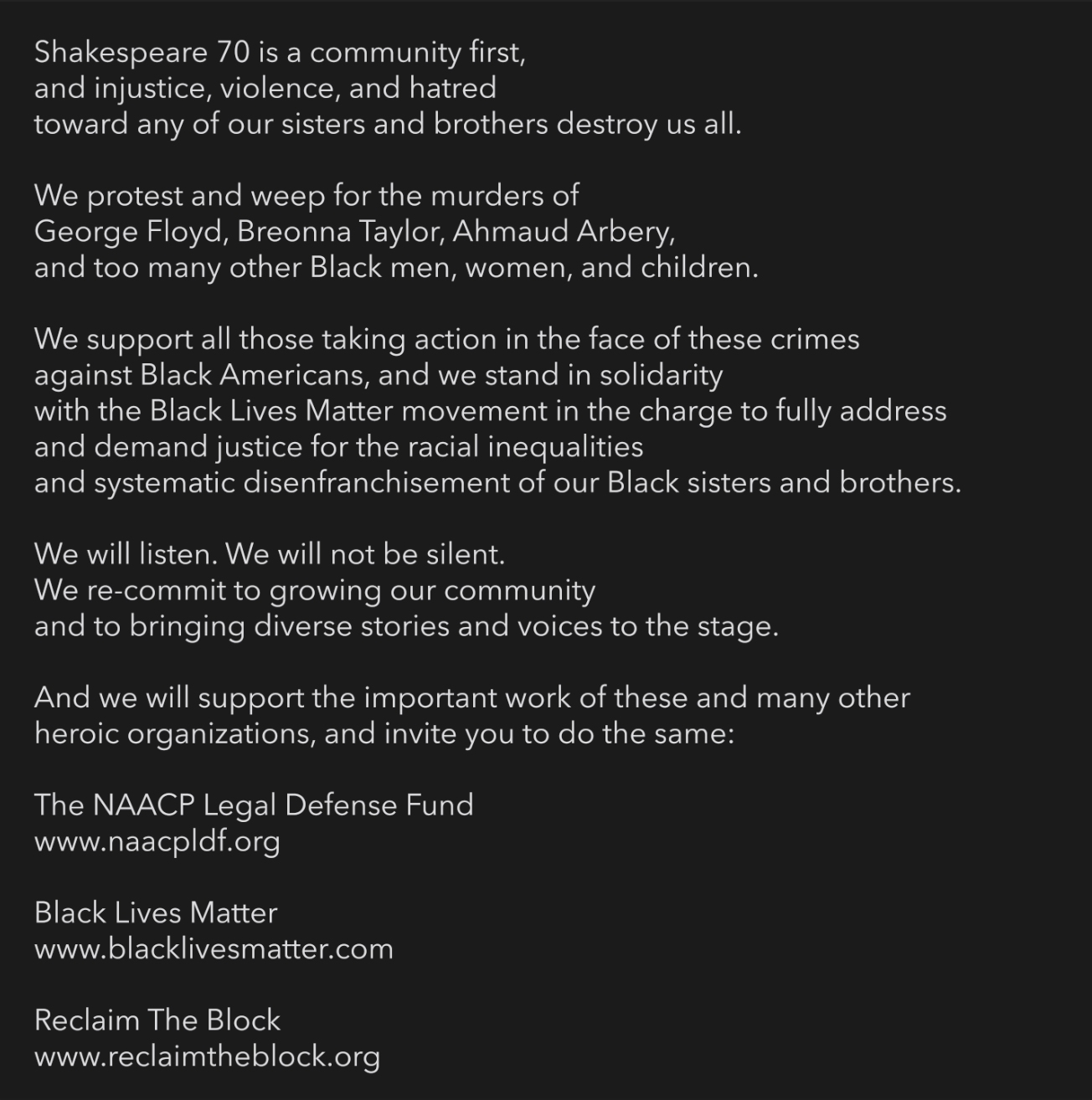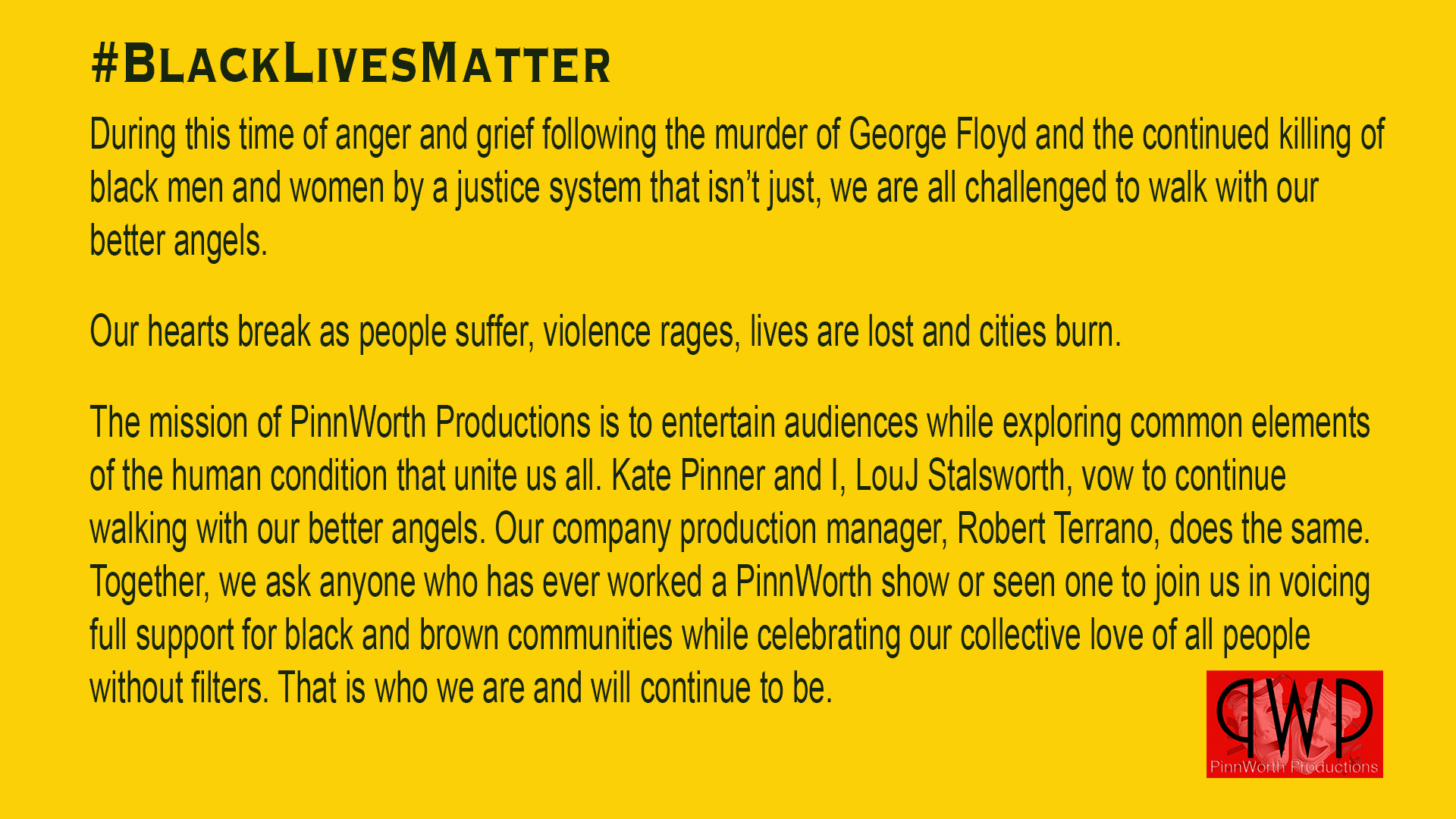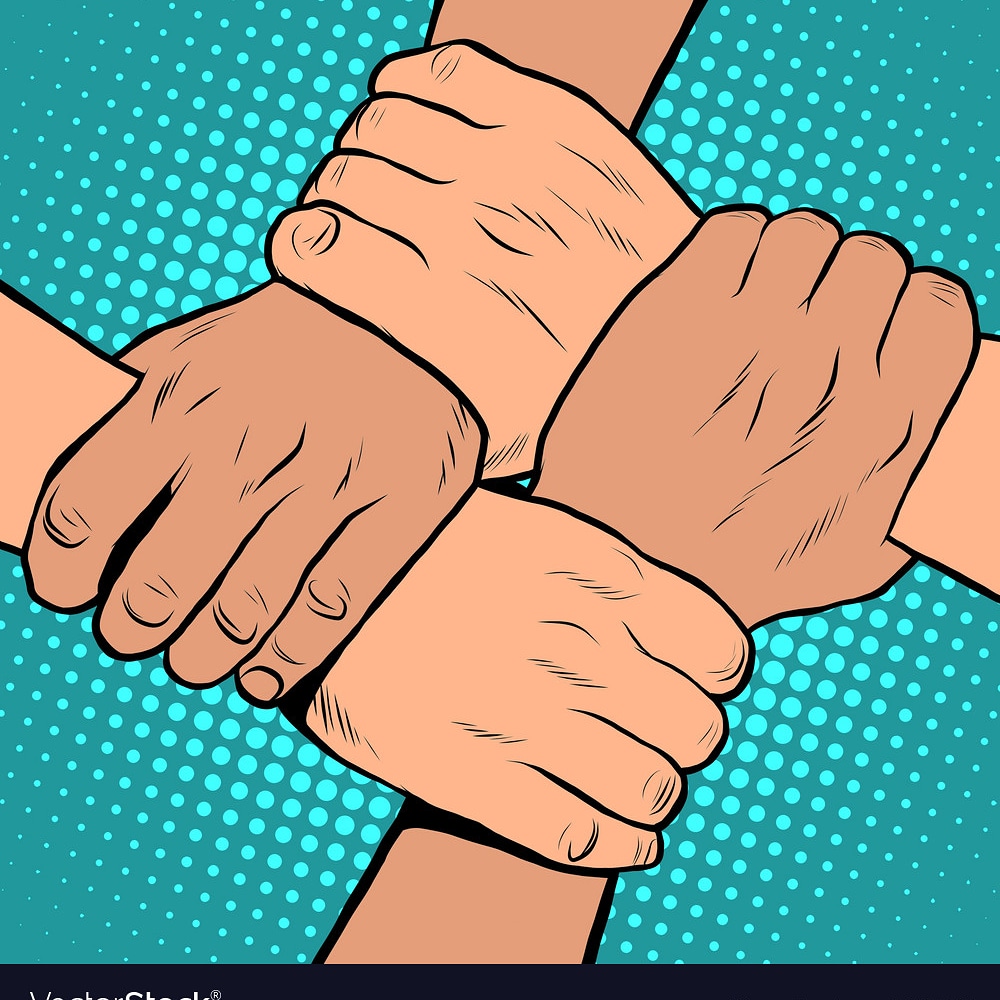 Theater To Go
stands with the protesters in decrying the continuing brutality towards Black people and other people of color in America. We are appalled by the murder of George Floyd and in the brutality of the crime perpetrated by an officer of the law and his colleagues who brazenly looked on as a human being was wantonly murdered while crying out for mercy. These officers were sworn to protect and defend, and yet they callously brutalized a man for the crime of being black while others looked on in horror and fear. He was killed over a $20 bill.
This is the last straw- George Floyd, Ahmaud Arbery , Breonna Taylor are only the most recent in a string of Black deaths at the hands of police. We as a society must not and cannot stand by silently any longer. We at T2G grieve the loss of life and the miscarriage of justice, the discrimination that Black people face daily, and the deep seated racism that is at its core.
 Our nation has a history of devaluing the lives of people of color, and has accepted systemic racism that has endured for decades. Enough! All of us must stand together to demand changes in laws and in systems that perpetuate and accept racism. We must each look deep inside us and examine our own actions and beliefs.
Take whatever action you can. Go to protests if you can. Write to your elected officials. Vote them out if they are not responsive. Join the fight. Black White or Brown, we are all in this fight together. Teach you children and grandchildren the meaning of justice and equality so that the future will be brighter than the past.
It is time for all of us to stand for racial justice, equality, uniform health, full access to the benefits of our society, and dignity for all Americans.
It is time to remove the shackles of oppression from so many Americans because of the color of their skin.
Are we ready to change the system?.
Founder/Artistic Director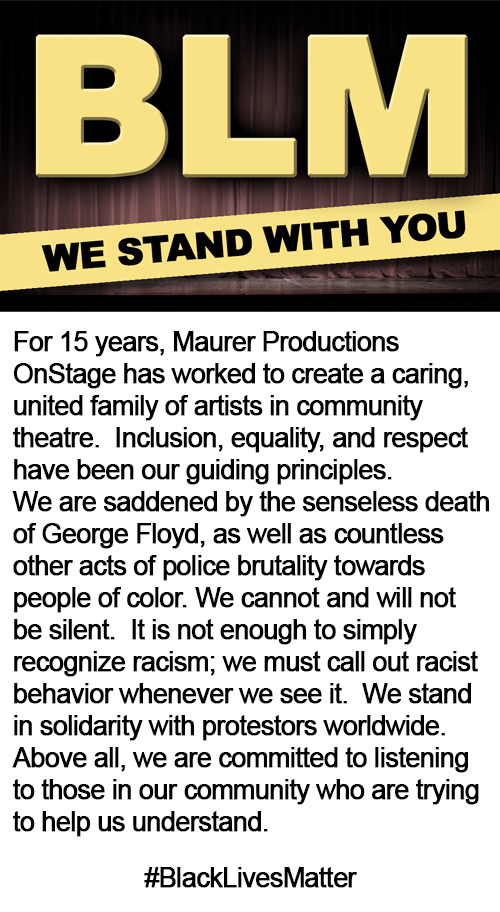 SAD NEWS - 
The Kelsey Theatre has lost an important part of our family.  Marc Flicker, whom most remember as House Manager, many remember as a talented actor, and all remember as a kind, gentle man, passed away the other day.  Our condolences go out to his sister and beloved nephews.  Good night, Sweet Prince; and flights of Angels sing thee to thy rest!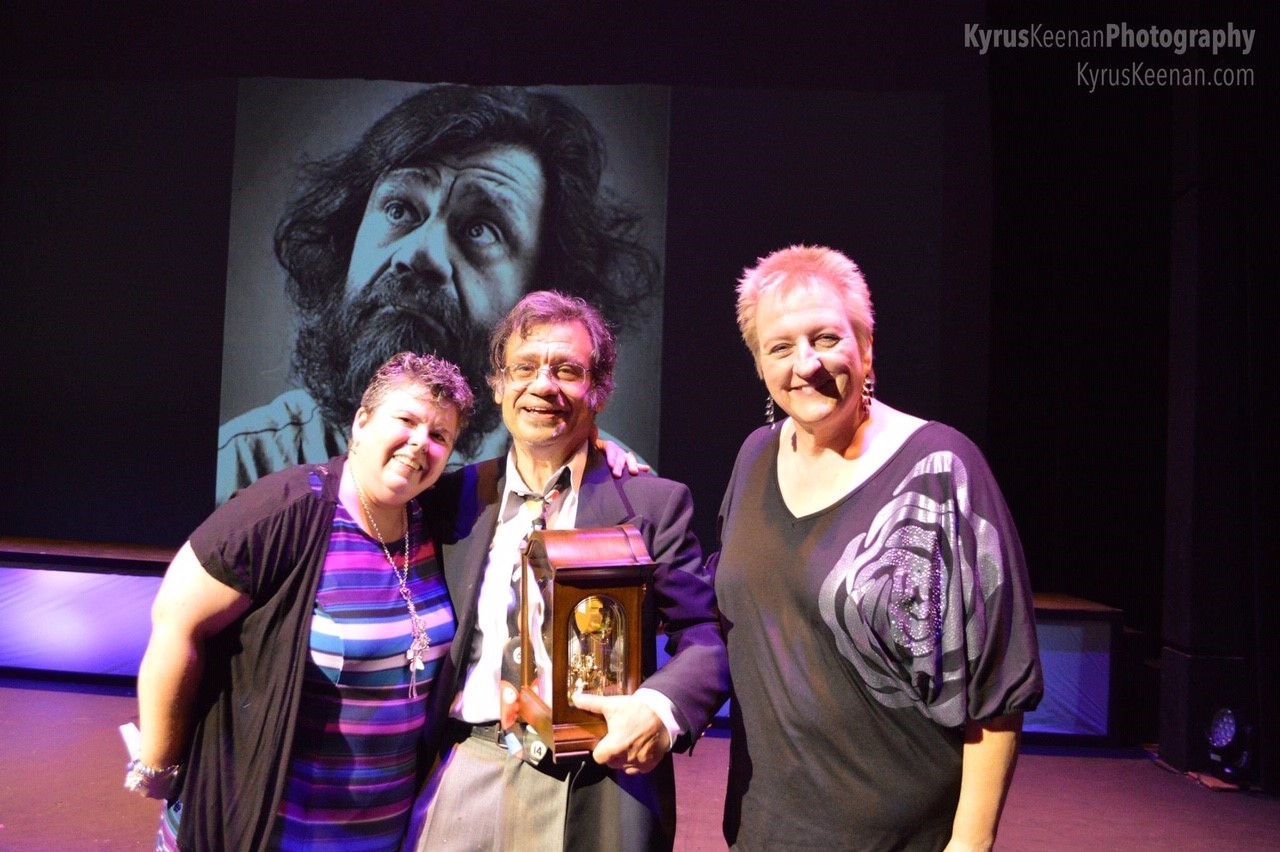 Dear friends –
 As we all struggle to deal with the difficult blows we have been dealt, I want to take a minute to thank you one and all for the loyalty and the love you have shown for Kelsey Theatre over the years. Please know that we miss you as much as you miss us, and that we are so looking forward to brighter days ahead. My staff is working remotely and continually monitoring the situation, as is the rest of Mercer County Community College. I have met with all of our resident production companies and have made contingency plans in order to insure that you will get a chance to see the wonderful shows that we had planned for you in the future.   But only when we can reasonably insure your safety and ours. 
The only shows we cannot reschedule are Chicken Dance, The Lion, Witch and Wardrobe and Treasure Island.  
The Box Office has moved all of your tickets into show credits to be used in the future. 
 As always, if you prefer to donate your ticket monies to Kelsey Theatre instead - your donation would be much appreciated. Or if you feel that you really need a refund of monies paid, Diana will expedite that as best she can. 
I do hope that you all will stay safe, stay home and follow the CDC's recommendations so that we can see your faces at Kelsey Theatre once again soon.  

REMEMBER THIS IS ONLY AN INTERMISSION - THEATER HAS BEEN AROUND FOR THOUSANDS OF YEARS AND THIS IS JUST A LITTLE BLIP - WE WILL BE BACK, BETTER THAN EVER!
  Please email Diana in the Box Office at boxoff@mccc.edu with the name the tickets were purchased under and/or the Order Number and which option you choose.
  NOTE: The College is fully closed and we will be working remotely so no one is at the theatre to answer the phone or deal with in person inquiries. Only people who do not have email will be called.
 Thank you for your patronage and patience as we navigate this unusual situation!
 And thank you again for being such loyal supporters of Kelsey Theatre.
 With love - M. Kitty Getlik
Artistic Director, Kelsey Theatre at Mercer